TRUSTED • LOCAL • INDEPENDENT
We are a team of Independent Insurance advisors located in Kennesaw, GA. We can help you with all of your insurance needs by comparing your coverages and rates with multiple insurance providers, saving you time, aggravation, and money.
"Dickerson Agency provides quick and efficient service. We have entrusted them with our articles, homeowners and auto insurance without hesitation. At the Dickerson Agency you are treated like part of the family and I would recommend them to anyone for their commercial and residential needs!"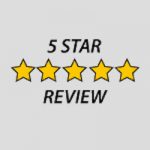 Johnathan M. ~ Customer Since 2015